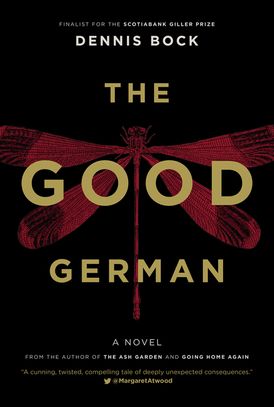 We have all considered the phrase "What if" while reading the pages of history. "What if" situation never happened. "What if" person X had never been born. "What if" that device had never been invented. But that question doesn't only apply when we look at the history books, but to our family photo albums as well. Talented novelist Dennis Bock has taken a look at both books in his possession and has written The Good German (which is due out later this year.) Bock was kind enough to answer a few questions for me.
1) First off, could you give a bit of an outline of "The Good German."
1) The outline, as it appears on the jacket:
In November 1939, a German anti-fascist named Georg Elser came as close to assassinating Adolf Hitler as anyone ever had. In this gripping novel of alternate history, he doesn't just come close—he succeeds. But he could never have imagined the terrible consequences that would follow from this act of heroism.
Hermann Göring, masterful strategist, assumes the Chancellery and quickly signs a non-aggression treaty with the isolationist president Joseph Kennedy that will keep America out of the war that is about to engulf Europe. Göring rushes the German scientific community into developing the atomic bomb, and in August 1944, this devastating new weapon is tested on the English capital. London lies in ruins. The war is over, fascism prevails in Europe, and Canada, the Commonwealth holdout in the Americas, suffers on as a client state of the Soviet Union. Georg Elser, blinded in the A-bombing of London, is shipped to Canada and quarantined in a hospice near Toronto called Mercy House. Here we meet William Teufel, a German-Canadian boy who in the summer of 1960 devises a plan that he hopes will distance himself from his German heritage and, unwittingly, brings him face to face with the man whose astonishing act of heroism twenty-one years earlier set the world on its terrifying new path.
2) I have seen comparisons of this book to Philip Roth's "The Plot Against America" and Philip K. Dick's "The High Castle" Were those books influential in writing this work or were there other reasons?
There are lots of books and images and ideas that creep into the creative process without the creator being aware of those influences. So I imagine those novels were important in the creative process. What I am aware of are the other forces that pushed me into writing this novel–namely, my own heritage and memories of growing up in south-western Ontario in the seventies. As a German-Canadian kid, I was painfully aware of what had happened in Europe in the thirties and forties, and that, in a way that I couldn't understand but nonetheless accepted, I was expected to bear some of the responsibility for those crimes. Generational guilt. Guilt by association. That's what I was interested in exploring in The Good German. At its heart, this is a novel about prejudice and our need to break out of the prisons that are our cultural, historical and societal boxes and to redefine ourselves as individuals independent of class and race and history. The novel's protagonist, a Canadian kid with German parents, not only feels that guilt by association for the crimes committed during the war–but for the fact that the Germans, in this torqued world, won the damn war. Which of course got me to wondering how on earth that could have panned out. That's how I found Georg Elser, the anti-fascist who, in actual history, missed killing Hitler by a mere thirteen minutes. In my novel, those thirteen minutes don't occur. He succeeds.
3) According to the School of Continuing Studies at the University of Toronto's website (where you are listed as an instructor in Creative Writing) you have four previous novels published. (Let me know if I am missing any: Olympia, The Ash Garden, The Communist's Daughter, and Going Home Again) Has your writing changed since your first book? If so, how?

Hopefully my writing is getting better and better, in terms of style, craft, and artistic vision. Who knows? We'll let others be the judge of that. But it's true that most writers are interested in developing a specific number of ideas and themes in their work. That seems to be consistent for me. Heritage. How does one lead an ethical life. The uneasy balance between the ego and moral responsibility. The pressures of society put upon the individual. These are interesting questions for me.
4) Your biographies have you listed as teaching creative writing at both U of T and at Humber College. Does teaching how to write help you writing? Have any of your students had any of their works published?

Quite a few writers have come through my courses and ended up writing good books and getting them published, but certainly not because of me but because they are talented people. Ann Y.K. Choi. Arif Anwar. Siobhan Jamison. Bianca Marais, to name but a few. But I don't think that good writing can be taught. That has to be learned by the individual through her contact with the great books she reads and the thousands of hours she has to put into writing failed poems and stories and novels. That's the only way to learn to write a good paragraph, in my opinion. What I do in my courses is focus on the craft issues. Craft issues can certainly be taught. How to write a good scene; the importance of narrative summary; how to avoid wooden dialogue; how to use structure to your advantage. What we look for in solid characterization. We talk a lot about stuff like that.
5) You do seem to be active on all the main social-media platforms. Do you use those platforms to connect with the readers of your works?

I'm a baby when it comes to social media. I'm out there, but in a pretty basic way.
6) Do you do much public readings of your works? Should social distancing be no longer required to occur, will you have much of a reading schedule with this book?

We really don't know what's going to happen re public readings at this point. The pandemic has thrown all of us a curve ball. We'll have to see.

7) Are you working on anything new right now? If yes, are there any details you care to share?

I usually like to take a bit of time off between novels and pursue various other projects.
*****
Link to Harper Collins Canada's website for "The Good German."