Thanks to Lisa J. Lawrence and Kennedy Cullen of Orca Book Publishers for sending me a copy of this book.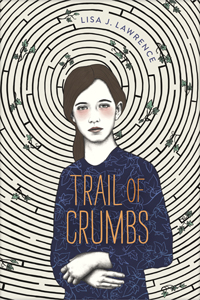 We all have those moments of shock after dealing with a traumatic situation. Somehow we are forced into stillness as our mind tries to deal with the pain and bruises – both real and emotional. This isn't easy process for a younger person to go through. Not only do they have to deal with those pains, they may not have the network of support to help them deal with the issues they have occurring within themselves. And Lisa J. Lawrence has documented one such young woman's journey in her novel Trail of Crumbs.
Page 2

During Patty's flurry of cursing, Greta let herself out the front door, climbing the steps of the concrete stairwell cave. Across the street their neighbor vacuumed the interior of his yellow Volvo, both doors hanging open. He straightened and waved to Greta. He was tall and pale with a nest of ginger hair. Slightly buggy eyes and an open face. Greta recognized him from Ash's English class. He watched her as if she might stop and talk. She walked faster, checking over her shoulder to make sure he hadn't followed her.

Greta circled the block a few times, crunching the brittle ice of unshoveled walks. Snow heaped in knee-high dunes on either side. Bleak January afternoon, like the sun never fully rose. Before going back inside, she listened at the bottom of the steps. All quiet.

No one in the living room. Greta tapped on her brother's door – technically the storage room – and opened it when her didn't answer.

He lay on a rumpled single mattress, staring at a bare bulb dangling from a wire. The back wall was covered with wide, rough shelves – the kind you'd put boxes or canned goods on. Ash had piled few books there, but the shelves sat mostly empty. No windows. She sat on the bed next to him.

"Why did Dad marry her?" she asked, not really expecting an answer.
Lawrence has created a complex individual in her character of Greta. She is typical of younger adults who have become apathetic towards their education. And with good reason. Her circle of friends have turned mean-spirited and dangerous. Her family life is equally ugly and hateful. And her twin brother Ash is moody and rebellious in his own right. Yet as whatever support units exist to aid her in her life completely fall apart, she finds herself in a day-to-day existence that forces her to seriously consider her future.
Pages 59-60

On Wednesday Greta came home fro her English final to find Ash in a kitchen chair and Nate standing behind him with clippers. Ash's long brown wisps had fallen in a mesh of hair on the pocked hardwood.

"What are you guys doing?" she asked, peering over Ash's scalp.

Ash turned proudly in each direction so she could inspect it. Nate had shaved along the sides and back, leaving a longer section down the center.

"What'd you do that for?"

"All the cool kids are doing it," Ash said.

"Shut up." Greta flicked the back of his head.

Nate turned on the clippers and touched up an uneven spot.

"Don't you think it might hurt your chances of getting a job?" she asked.

I'm pretty sure it won't hamper my ability to lower fries into a deep fryer."

"Touche"

Ash had applied for three jobs already that week, at two fast-food places and a snow-removal company. Nothing yet. Greta had applied as a cashier at the only supermarket in busing distance and at a place that made cinnamon buns in the mall. The bun place had told her she was underqualified. To bake pre-made cinnamon buns and make basic change. In the post-Christmas retail slump, few Help Wanted signs hung in store windows.

Now that she and Ash had no money, everything was about money. Greta had rationed their last few tomatoes, only to find one spotted with gray mold. She'd waited too long. She felt sick, dropping it in the garbage can.
Lawrence has done something interesting here. She has documented the life of Greta well and given young adults a source of empathy to compared themselves to but she has also documented an element of the human condition here. A young adult trying to to come to grips with both growing up and dealing with heavy traumas and abuses. This is a book that is a good piece of literature and a great resource for young adults.
Pages 96

"Why do you care?"

Priya sighed. "Look, I know it's none of my business. About a year ago, Rachel screwed me over big-time. I know what they can be like I kind of wondered if the same thing had happened to you."

Greta looked away from Priya. They probably just wanted to see what she would say behind their backs.

"And Dylan" – Priya paused – "I know him too." Greta snapped back to Priya's face. "We were together for a few weeks last year. Let's just say I wasn't willing to do certain things on, like the first or second date" >I<Things you were willing to do. Slut.>/I< "He didn't want to wait."

That shame – waiting in the wings since social studies – crept out of hiding and oozed through her body. She swallowed, her stomach queasy. Like on the morning at the cabin, after the party.
Trail of Crumbs by Lisa J. Lawrence is a brilliant and easy read. She has documented an important element of the human condition of this age year that is well-written and easy to gain empathy from its pages. An interesting read.
*****
Link to Orca Book Publishers Canada's website for Trail of Crumbs